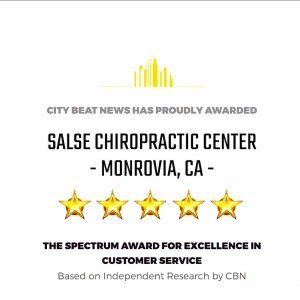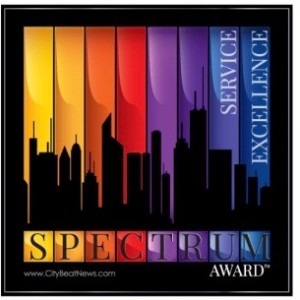 CONGRATULATIONS to Salse Chiropractic for winning the coveted SPECTRUM AWARD again for 2017.
CBN draws upon many information sources and weighs and distills them into a single score for the year to identify top companies across the country. Only those businesses earning our highest ratings are honored with the City Beat News Spectrum Award for Service Excellence.
"Its an honor to be recognized among the top chiropractic offices in the nation," said Dr. David Salse, president and CEO of Salse Chiropractic Center, Inc. "We are committed to excellent care and service for our patients."
Salse Chiropractics goal is committed be a regional provider to the people of Southern California.  The practice specializes in family wellness care, corrective chiropractic care and care for auto accident or work injury patients.  We will continue to offer our twenty-five years of clinical experience at an affordable rate over the next decade.  https://goo.gl/BHmSPP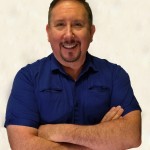 David M. Salse, DC       Owner – Salse Chiropractic Center, Inc. A licensed chiropractic physician, David M. Salse, D.C. is a regionally recognized lecturer and speaker. He has presented extensively at seminars and workshops on the subject of optimal health and healing through natural chiropractic. His twenty-five years of clinical practice with over twenty-five thousand patients has provided him with extensive knowledge and experience in the field of chiropractic and manipulative therapy. Dr. Salse is a 1993 honors graduate of the Los Angeles College Of Chiropractic/Southern California University of Health Sciences. Prior to his post-graduate education, he attended California State Polythechnic University, Pomona where he graduated with a Bachelor's degree in Biology. Beginning his career as a chemist, he provided his knowledge in the area of research and quality assurance for an international diagnostic reagents company. Although he had a promising and lucrative career in front of him, he decided to go back to school to fulfill his lifelong dream of helping others live a better life. It was an auto accident that introduced him to chiropractic. After experiencing tremendous relief, he decided to specialize as a chiropractic primary care physician. Since he began practicing, Dr. Salse has worked with the top national and international recognized leaders in his profession. He has traveled extensively across the nation attending many continuing educational classes, ensuring that his patients receive the most comprehensive and advanced chiropractic care. Each year, Dr. Salse donates his time to the community by giving free educational seminars to schools and businesses. If you would like Dr. Salse to speak at your next school function, work safety meeting, or social gathering, call our office to book an engagement.